Just Bought A Diesel Truck? Here's Your Battle Plan For More Power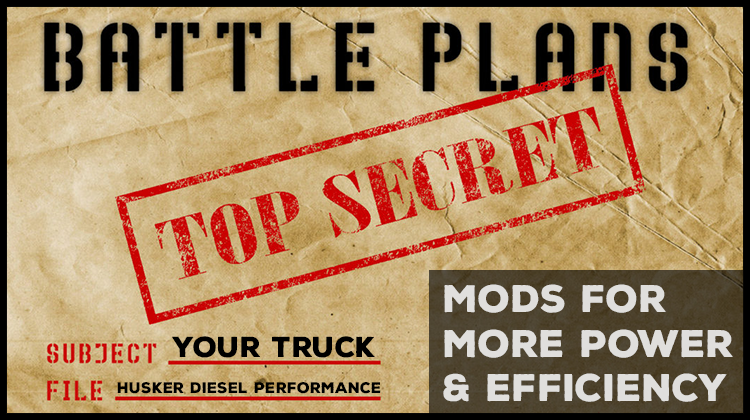 One constant in the diesel pickup truck industry is truck owners can't seem to get enough power! We totally get it. It's addictive. But where do you even start? We'd recommend getting started with the following modifications.
Let's break it down.
Exhaust
That engine wants to breathe, the stock exhaust on your truck is small in diameter and restricts the trucks ability to *ahem* "exhaust" the gases from the truck. If your whole goal here is to increase the power the engine puts out you can pretty much guarantee you will need to upgrade your exhaust. Typically our customers are in the 4-5″ range and they go straight back if possible. The fewer bends the less restrictive your exhaust is.
Benefits are not only letting the truck breathe better, but you get a better sound & cooler temps as well.
Check out the Exhaust Systems we recommend and carry in our online store.
Tuners
Almost all modern Diesel pickup trucks are controlled by a central computer to govern EVERYTHING in, on, and around your truck. So, naturally, us power hungry diesel enthusiasts figured out a way to use this to our advantage. There is hidden potential in every diesel truck and if you want to unlock it you are going to need a Diesel Truck Tuner. In the interest of moving this article forward faster, let's just say this; A good tuner does a little beep boop on your ECM and adjusts the amount, timing, and pressure of the fuel that is injected into the cylinder, which increases performance.
Nowadays, you can get a tuner that lets you switch to different types of tunes on the fly. Want the best MPGs? *Click* Need to tow your boat or camper? Set it to tow mode. *Click* Some tough guy givin' you the business at the stop light? Power mode…ENGAGED! *Click* (As a disclaimer we do no condone street racing and/or speeding. It's against the law)
You get the point.
Cold Air Intakes
Now as discussed in the Exhaust part of this article, your diesel truck wants to breathe easy. One of, if not THE, first mod most people do is replacing the stock intake and air filter with an aftermarket cold air intake. Not only is this usually a simple DIY type mod it is also a quick way to boost horsepower, engine efficiency, and an overall better fuel-to-air ratio. There are quite a few companies now that offer entire cold air kits. Most are decently priced as well, making this a budget friendly mod. It's one of our most popular products for sure.
See our entire S&B intake line here
Gauges
Now on to something that is both useful AND looks good. We're talkin' bout gauges. Let's outline why these should be on your list of mods. Albeit, probably not until the rest of the mods are done.
When you modify your vehicle and increase its power you are putting stress on the engine. In order to keep a closer eye on things, you need to monitor parts of your engine that stock gauges can't help you with. Things like Exhaust Gas Temp (EGT), which should be at the top of your list. You also want to monitor your boost letting you learn and know what is "normal" or "average" for your truck. If things get wonky, you'll know sooner than later.
Last on the list of gauges doesn't get much discussion usually but its the transmission temperature. Wad'n up your trans is not a cheap repair. It's much cheaper to glance at a gauge every now and then to make sure it's smooth sailing under the rig.
Summed Up
Of course, there are almost limitless modifications you can do to a diesel truck. However, these are the initial enhancements you should consider to get that horsepower ball rolling.
As always We strive to offer top notch support for our customers, it's kind of our thing. Give us a call if you have any questions! 402-502-6961 M-F 8AM-5PM CST.
Tagged with
Diesel Fuel Economy / MPG, Diesel Modifications, Diesel Performance Parts, Diesel Products, Diesel Tuning, Dodge Cummins, Ford Powerstroke, GM Duramax, New Products
Reader Comments (0)
Post Comment
You must login to post comments.